A Science Student's Art Journey in Moment Discovery by Charffy Wang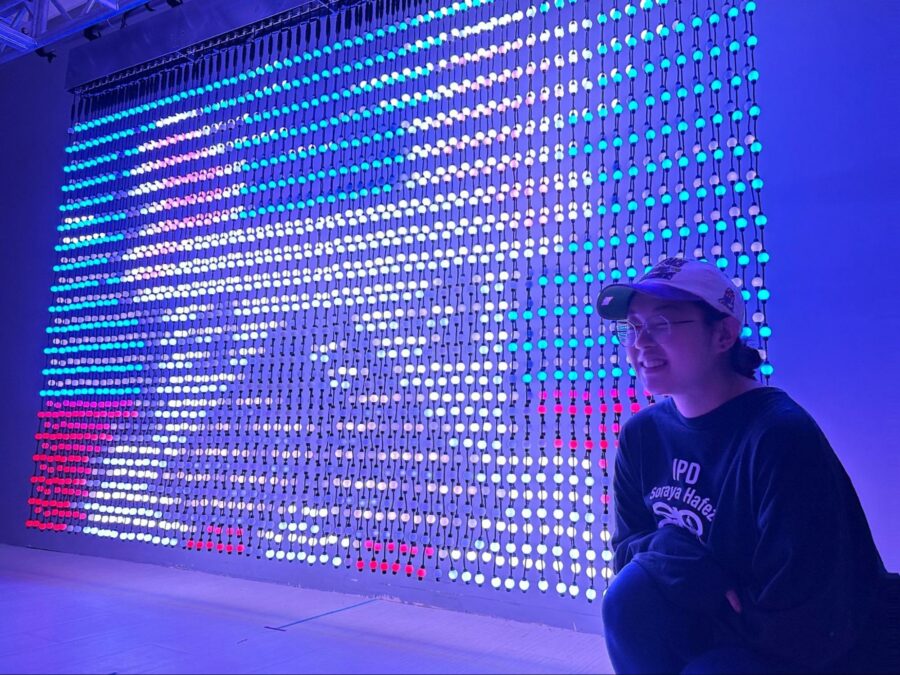 When I was in junior high, I was attracted by the beautiful pictures and various power-up designs in video games. This small interest motivated me to pursue the Certificate in Computer Game Development in university. While collaborating on game projects with people from various educational backgrounds, I mostly worked on programming since I was a computer science student. I often got intrigued by the works from other team members, such as the design of visual graphics, composition of sound effects and the framework of storytelling. Gradually I figured out that what fascinates me the most is the combination of technology and art, and it is this personal experience that leads me to Moment Discovery.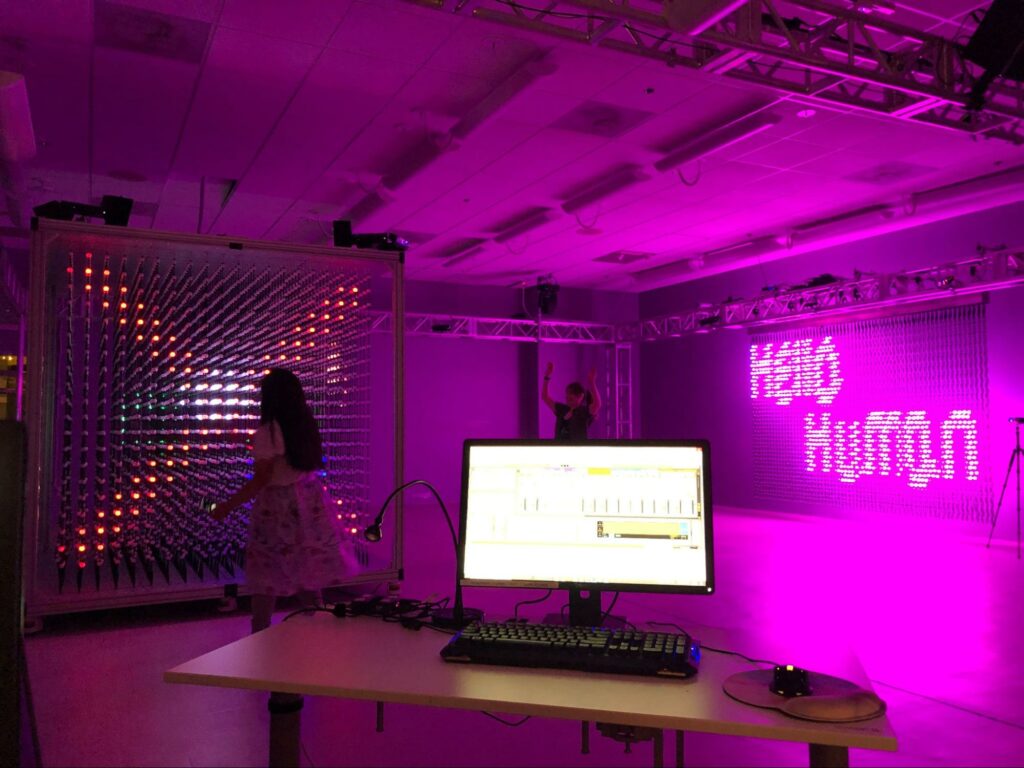 During my internship at Moment Discovery, I had the chance to learn about our self-created hardwares and softwares. DotBox, the cube composed of 8000 LED lights, brings so much fun to our research in the studio. We jump and wave to play the 3D game Pong, move forward and backward to draw with Watercolour, we can even dance to interact with Garden and sing to generate 3D sound waves! What adds more flavour to the immersive experience is the human-body triggering maps created in our software Spatio. With something as simple as putting one step forward, you can trigger both light and sound effects simultaneously. When I work, I love to be a dancing monkey to create trails and body data for us to test the tracking functionality.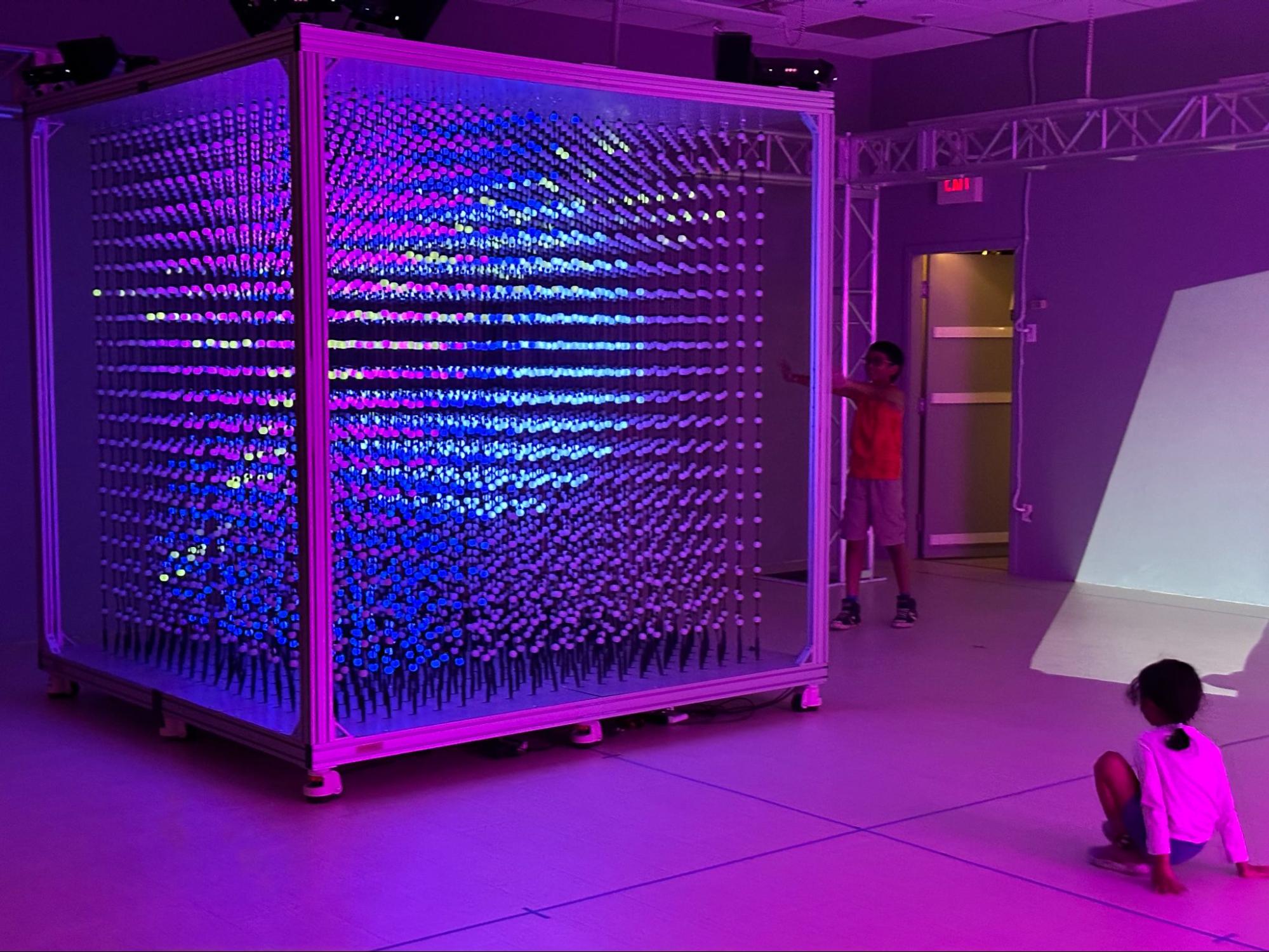 In addition to research and development, Moment Discovery exposes me to an abundance of art experiences which I have never had before. During the year, we have collaborated with many artists and have gone on many art field trips. As a member of the team, I got the chance to enjoy modern dance from deaf artist Connor Yuzwenko-Martin, listening to his inner cry through vibrations; I went to our friend Kelly Ruth's virtual performance, watching her playing music in the metaverse; I visited Mile Zero Dance for choreographer erψn temp3st's futuristic dance performance, feeling the fusion of technology and nature. I admired these artists' creative productions and meanwhile was amazed by their innovative stage setup. Can you imagine seeing a sack of rice falling from the ceiling? Or even immersing your hands into a box of rice, feeling them trembling through your skin? That is the first time I experienced connecting to an artist's emotions through art. The grotesque lighting and shadow from projectors, the heartbeats and heavy breath from speakers, these artists are trying to tell me a story about human life and spirits through those cold machines, but when these emotions are transmitted into my inner world, I feel they are warm and fresh.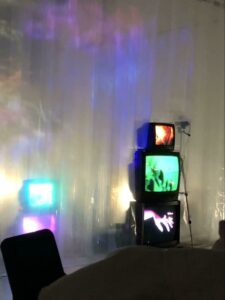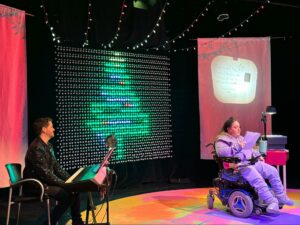 Moment Discovery also brings me a chance to participate in the production of a theatre show. In In My Own Little Corner by disabled actor Carly Neis, we utilized our new product — DotWall, for the first time in public. Our team has tested and designed many algorithmic artworks for this show, and I was also honoured to design a pixelated Christmas tree in DotBox's effect layer Draw. Some of these algorithmic artworks restore the scenes in Carly's memory, reflecting Carly's moods. When I saw the images changing behind Carly and saw her singing beautifully on the stage, I felt so proud of my team and happy for Carly because we both shone at that moment!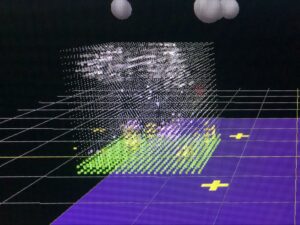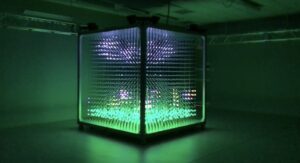 After trying 2D graphics design, I participated in the creation of our seasonal box – Spring Box. We tweaked our algorithmic art Perlin, adding layer transforms and color effects to make some of them look like floating clouds, and some like growing flowers. We adjusted the parameters of Stars, slowing down speed and decreasing amounts to mimic a gentle spring shower. In addition to visual effects, we also added Jonah's recordings of his Cockatiel chirping and thunder rumbling on a rainy day. 
While I was amazed at the interactivity brought by DotBox and Spatio, our lead engineer, Conroy Badger, introduced us to the new program he had developed – Video Server. With this program, we can project video frames or images through masks and easily adjust their parameters.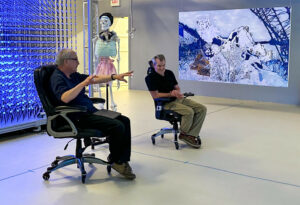 In our collaboration with professor Jesse Thomas, we hung Jesse's painting in the air; accurately projected a video of aurora on the sky, and a video of flowing water on the river. The end result is fantastic – it makes me feel like I'm watching an animation rather than just a painting! If you saw it with your own eyes, you will be shocked by how dynamic the visuals are!
For our July event Hello Human!, I am thrilled to collaborate with youth artist Dylan Rominik on the project Big Easel. Together we created 20 pixelated animal artworks through the Draw program I made. After we finished drawing, we imported these pixelated pictures into DotWall's Draw layer, adding dynamic algorithmic artworks as the animated background. In order to make these drawings more vivid, we also inserted many sound effects. My favorite drawing is the turtle one I created for my tortoise (yes, he actually cannot swim :-O). I used JB Water as the background (created by Jonah using Worley) and tweaked Fountain to create the bubbles underwater. I also made a bulldog one inspired by my parents' frenchie Pea, and Kelly's frenchie Monty.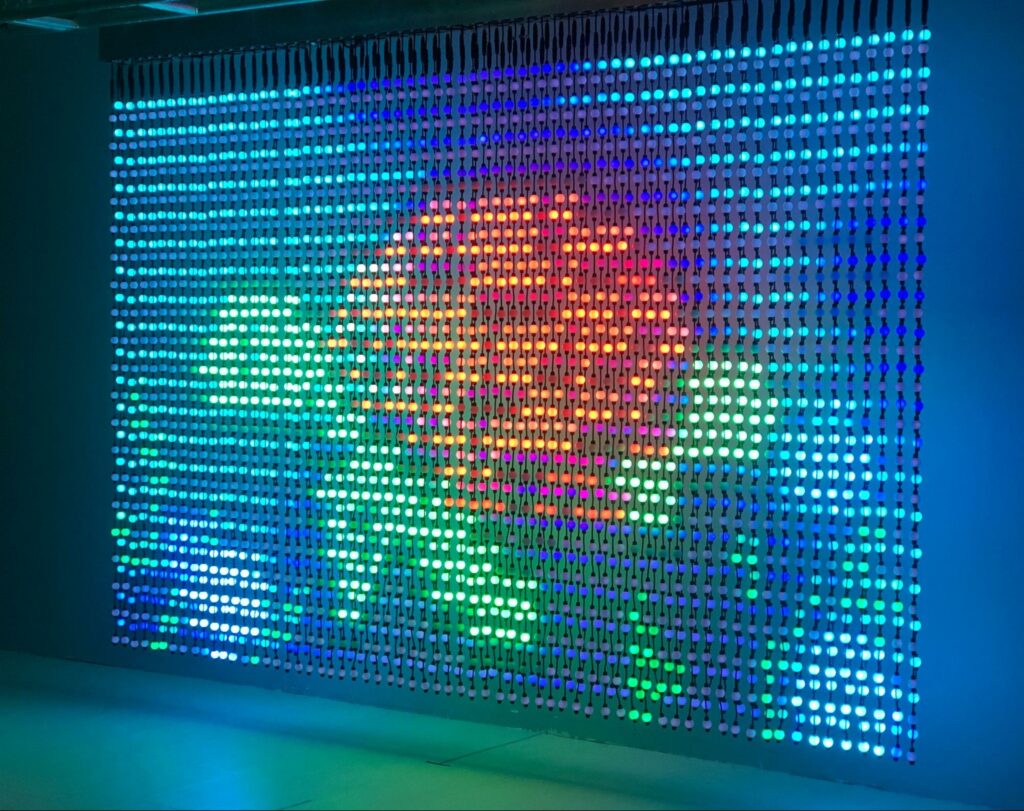 Big Easel, Charffy Wang and Dylan Rominik, Interactive Media, 'Hello Human!', Moment Discovery Studio, 2023, Photo by Charffy Wan
During The Works Art & Design festival, I was so glad that people loved the Big Easel project and enjoyed watching them come inside the studio and take pictures with the DotWall. We set up a working station for the Draw program, so people can draw on the computer and see their artwork appearing gradually on the DotWall. Youth artist Marcus Rasko-Todd drew Van Gogh's Starry Night in Draw, with our Dotbox displaying the Winter Box in the background, the whole studio looked like a fairyland.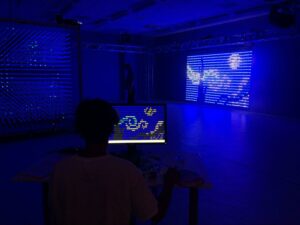 Another one of Marcus's works I really like is the Earth and Spaceship. Coincidentally, DotBox was displaying Garden at that time and our haircross desktop wallpaper was projected on the wall. Together the lighting, graphics, and the reflection on the floor formed a futuristic space. 
Moment Discovery has enriched my art experience to a great extent, showing me how beautiful the integration of technology and art can be. I feel so lucky to be part of the Moment team, and look forward to developing more creative programs with my team members in the future!